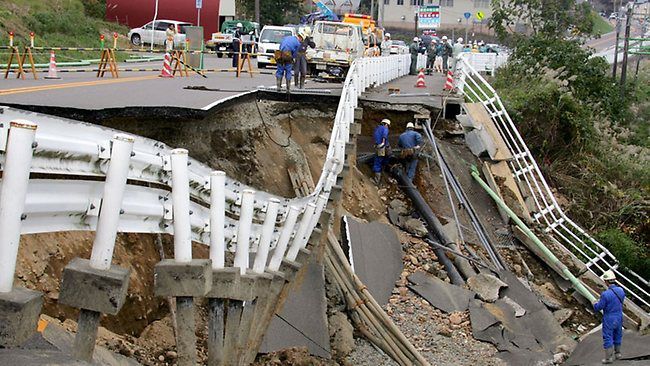 Death, missing individuals and important injuries are the theme of the day for March 11th 2011; the eastern coast of Japan has been struck by one of the biggest seismic quake of history. The earthquake, measured at a mind-blowing 8.9 on the Richter scale, was followed by a destructive tsunami with waves going up to 23-foot in the air. The death toll is now measured at 60 individuals and many are still reported missing or injured. Buildings, boats, houses and other structures have all been flooded by the tsunami, if not completely taken away by the force of the water; the entire country is still under shock and many surrounding areas have issued disconcerting warnings and alerts for tsunamis.
The Tohoku area, north of Tokyo, has been under major damage. The entire Japan's coast, from Erimo to Oarai, has been swept away by the enormous waves of the tsunami, while even the inland cities, 20 kilometers off the shore have seen the horrors of the phenomenon. Boats, cars and buildings were taken away while many farmlands are now filled with debris and black water.
The immensity of the damages has not yet been measured, but the authorities are estimating damages left by this earthquake to be more important than any other situation experienced before in the country. damaged building in japan
Following the earthquake and tsunami, Tokyo residents have also been left to walk the streets; public transportation had been shut down and car navigation was nearly impossible for most of the day. The Tokyo subway line, one of the world's busiest transportation system, has been partially re-established at 8.40pm local time, time at which many workers were still desperately trying to get home by foot in the crowded streets of the capital of Japan.
While the economic impact of the quake and tsunami has not yet been discussed, it is safe to say that the entire country is under shock and trying to recover from this important trauma. The situation is not yet entirely dealt with, with tsunami warnings being issued for Oregon, Northern and Central California's shorelines and Hawaii, in the United States; other regions under alerts and warnings include New Zealand, Guam and many more. Surrounding coast lines are at risk of important damage but residents from inland cities need not to worry so far, as a widespread inundation is not feared at this point.
March 11th 2011 is surely to be remembered, news stations around the world are continuously broadcasting any updates on the situation in Japan, while sensation sites such as YouTube and Twitter are diffusing any updates and videos to be found online.
While phone lines and televisions still seem to be down in many areas of Japan, the internet is still going strong and allowing the world to stay in touch with the actuality of the situation.
http://www.youtube.com/watch?v=ZWmjRG3m6Dw
http://www.youtube.com/watch?v=nMsgkNKtp5U
Related Articles:
Crucial Recommendations on Disaster Readiness
Working With Young Children on Disaster Management